Augmented Reality SmartPhone Amazon
24 juni 2014
Fire Phone
With Dynamic Perspective and Firefly, extend your Android app beyond today's flat user interfaces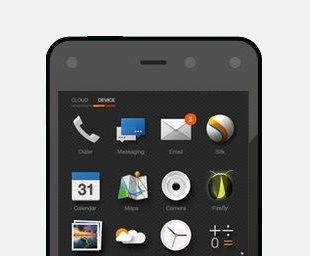 With Fire, Amazon's all-new Android-based smartphone, you can reimagine your app and delight your customers through new groundbreaking experiences. Fire apps can take advantage of the new Dynamic Perspective and Firefly SDKs - two new breakthrough technologies that allow customers to see and interact with the world through a whole new lens. You can also easily integrate existing Amazon APIs, including In-App Purchasing, Mobile Ads, and Mobile Associates. Apps and games submitted and approved by July 18 will be in the Amazon Appstore when Fire ships on July 25.
If you have existing Android or HTML5 apps, you can easily and quickly get your app up on Fire phone. Most Android phone apps will already work on Fire. To determine your app's compatibility, simply submit your app using our updated testing service and get compatibility test results within 90 seconds. If you register for a free developer account, you can also use the testing service to test your app's look and feel and get the results in less than 6 hours.
Dynamic Perspective
Dynamic Perspective is an entirely new technology that responds to the way a customer holds, views, and moves the phone. With the Dynamic Perspective SDK, you can use the Dynamic Perspective sensors to create new interactions never seen before in apps and games. The Dynamic Perspective includes a rich set of APIs and Controls to help developers incorporate peek, tilt and zoom capabilities within their apps, create immersive game play or provide quick navigation menus by allows customers to tilt the device left or right. Amazon's new Dynamic Perspective technology uses four ultra-low power specialized cameras, four infrared LEDs, a dedicated custom processor, real-time computer vision algorithms, and a custom power-efficient graphics rendering engine to track head movements in real time. Learn More.
Firefly
With the Firefly SDK, developers can build apps that recognize real world objects - QR and bar codes, artwork, songs, movies and more - and let customers interact with them. Firefly combines Amazon's deep catalog of physical and digital content with multiple image, text and audio recognition technologies to quickly identify over 100 million movies, TV episodes, songs and products. It can also recognize URLs, email addresses and phone numbers. Customers simply press the Firefly button to discover helpful information and take action in seconds. You can use the Firefly SDK to supplement item identification or build actionable options for customers after an item is recognized. For example, iHeartRadio used the Firefly SDK's built-in music recognizer and music database to identify a song playing. Then they built their own Firefly action to create a station based on the song Firefly recognized. Learn More.
Bron: Amazon
AUGMENTED EN VIRTUAL REALITY
Neem contact met ons op als u meer over Augmented en Virtual Reality wilt weten.
Nieuws archief