ER doctors use Google Glass and QR codes to identify patients
15 maart 2014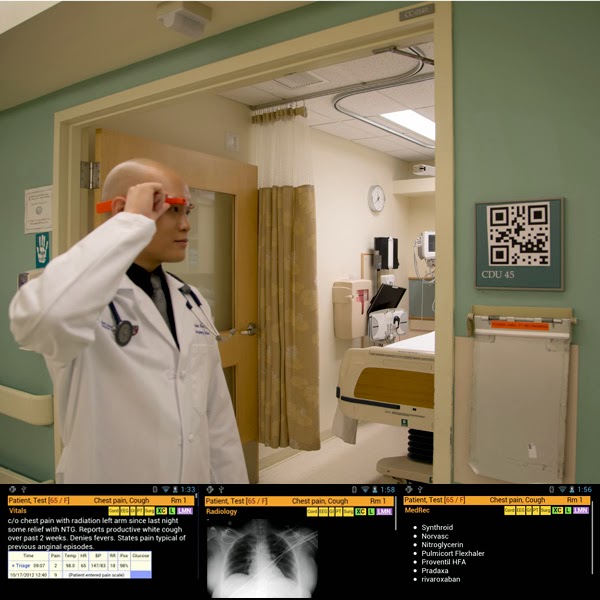 Dr. Steve Horng at Beth Israel Deaconess Medical Center in Boston.
A tech-savvy hospital in Boston developed a custom information-retrieval system for Google Glass, which lets ER doctors scan a QR code on the wall of each room to call up information about patients.
Dr. John Halamka, CIO of Beth Israel Deaconess Medical Center, described the system today:
In the Emergency Department we have been evaluating an early unit of Google Glass, a high tech pair of glasses that includes a video camera, video screen, speaker, microphone, touch pad, and motion sensor. We have been able to access our internal web-based ED Dashboard on Glass, in a secure manner that ensures all data stays within the BIDMC firewall. Clinicians can now speak with the patient, examine them, and perform procedures while simultaneously seeing data from the ED Dashboard in their field of view. Beyond the technical challenges of bringing wearable computers to BIDMC, we had other concerns—protecting security, evaluating patient reaction, and ensuring clinician usability.

Here's what we've learned thus far: Patients have been intrigued by Google Glass, but no one has expressed a concern about them. Boston is home to many techies and a few patients asked detailed questions about the technology. The bright orange pair of Glass we have been testing is as subtle as a neon hunter's vest, so it was hard to miss. Staff members have definitely noticed them and responded with a mixture of intrigue and skepticism. Those who tried them on briefly did seem impressed. Glass is a new medium that seems best suited for retrieval of summarized information and it really differentiates itself when it comes to real-time updates and notifications. When paired with location services, it will be able to truly deliver actionable information to clinicians in real time.

We believe the ability to access and confirm clinical information at the bedside is one of the strongest features of Google Glass. Our Google Glass unit has been tested by a limited set of four emergency physicians serving as beta users since 12/17/13. In addition to our four beta users, we've also had impromptu testing with at least 10 other staff members since 1/24/14 to get feedback to refine the user experience. We needed to rigorously test our setup to ensure that the application is not only reliable and intuitive, but improved the workflow of clinicians rather than impede it.

We have learned a lot, and will continue testing with more interested clinical providers going forward. I believe wearable computing will replace tablet-based computing for many clinicians who need their hands free and instant access to information.
Beth Israel has been using the Glass application for three months and will make it available to all interested doctors this month. The hospital took its Emergency Department dashboard and integrated it with Glass, making sure to deploy "the same privacy safeguards as our existing web interface," Halamka wrote. "We replaced all the Google components on the devices so that no data travels over Google servers. All data stays within the BIDMC firewall."
Meer over Google Glass en QR code: http://arstechnica.com
AUGMENTED EN VIRTUAL REALITY
Neem contact met ons op als u meer over Augmented en Virtual Reality wilt weten.
Nieuws archief